Originally I planned to leave Chile a bit early to go skiing for a few weeks in Colorado and use the ski pass I bought back in May 2015. It was a perfect plan to return and get a few extra days at higher altitude before going to Nepal to hike to Everest Base Camp. And then, my plan changed. As I sat in the front left position of the large yellow raft I was helping to paddle, the entire left side of the raft jumped and the thwart under which I had secured my right foot dislodged. I found my left foot stuck in the foot cup attached to the floor and my knee in a little twist. I didn't realize it until we finished our Class V rafting day in Inferno Canyon that I had injured myself.  I limped around camp still leading yoga, still giving Thai massage, and yes, still rafting. I wrapped it and applied salves from bottles that had directions in languages that I could not understand – all in hopes of getting some relief and healing. In the end, I decided not to board the early bus to Bariloche, Argentina, for  hiking or to go to Colorado to have a few more days of skiing. Instead, I loaded my stuff in a red Hilux pick-up truck and traveled with seven Peruvians (and Derek, one of the river guides) from Bio Bio Camp to Santiago, Chile. Our caravan included two pick-ups, a trailer, unfolding platform tents, a camp stove, table and chairs, kayaks, bikes, an ice cream maker, an ice maker, Piero, Patty, their three boys, Futa (their protective, pregnant black lab); Santi, Sandra, Derek and me. We were a sight.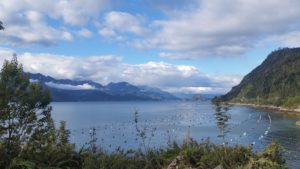 We drove through some amazingly beautiful Chilean country with almost uncountable bridges over rivers and waterways, and massive blue lakes surrounded by mountains. Every time we stopped, we found wild blackberries on the side of the road, and we unabashedly picked (above our elbows, of course) and ate the ripe fruit.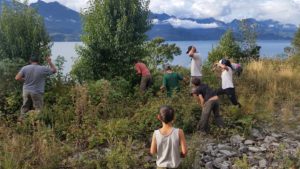 Unpaved, winding roads took us from the Fu to our first short ferry ride. We all left the truck and watched Game of Thrones while we crossed one lake. Then, we drove a short distance to the next ferry port – for which I did not have a ticket – and when we got there, one of the ferry officials took my passport. I was a little nervous about someone else having my passport. We drove onto the ferry, and I ran out to find the guy that held my passport. He said (in Spanish) he'd given it to someone else and very graciously led me (because I was not understanding him) to the place where I would buy my ticket after the ferry ride started. I sat there and waited for the ticket seller to come. He did, and all was well. I bought my ticket and received my passport in return. This ferry ride took more time so I wandered around the boat, took a nap, took a few pictures, and then wandered more. I found myself looking into the bridge of the ferry with the captain, who happened to be the same man who took my passport, and he motioned for me to enter. I opened the door and started talking very broken spanish with the captain and his first mate as they navigated the ferry across the lake. I took a couple pictures of them, and then they motioned for me to sit in the captain's chair for my own photo "driving" the boat. Then, it was time to go, and I returned to my Peruvian crew.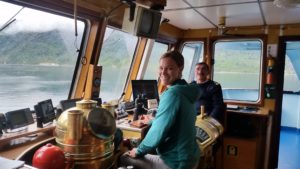 Our first night camping was in a random field with a significant number of bee hives. We circled up the trucks and set up camp, had dinner, and went to bed. The next day we left for Puerta Varas to take Derek to catch his flight. We met up with a friend of Santi's and had lunch before telling Derek goodbye. Then, we went to a brand new mall to buy groceries and look at a clothing shop. That's when the unfortunate event happened. I went with Patty and Sandra to the store they wanted to see, trying to find wifi so I could buy a plane ticket from Santiago (the town) to Buenos Aires to fly home. Eventually, I popped into a bar and drank a stout to get wifi and buy my ticket. When I went back to the trucks, everyone turned to me and said, "They stole your bags." What? OK. This is not good. I did have my passport and money on me, but I had nothing else. No clothes except what I was wearing – nothing else. Sandra also had both of her bags stolen, and Santi had one bag stolen. Soon the police came, and we filled out a report – trying to remember everything in our bags and put a value next to it. In reality, we knew retrieving any of our stuff was almost impossible. Our real task was being ok with letting all our stuff go. When my skis were stolen over a year ago, I felt so violated; this time, I wasn't happy, but I had peace. Our next goal was to find some clothing to wear. We drove to another town with a mall and had 15 minutes to find underwear, pants, shirts, and whatever else we needed. We camped that night and everyone adjusted their sleeping situations to accommodate for Sandra and me not having any camping gear. We made it through the rest of our trip with minimal stuff, drove to Santiago, said goodbye to Pierro, Patty, and the boys, ate some good food, and then I parted ways with Santi and Sandra after hanging out for a night in Santiago. I stayed one extra night in the city on my own before flying home to Denver, just in time for the first snow they'd had in weeks. I had two weeks to borrow, buy, and beg my way to having the gear I would need for my next trip to Nepal. And it happened. I got everything I needed. What an incredible reminder of how blessed I am by friends who loaned, offered to loan, and offered to buy me that gear. Thanks to all for filling my backpack and my heart.